Disclosure: I am an affiliate for CodingPhase. Having said this, I have the lifetime membership, completed almost all the courses, became a React Dev thanks to the courses, and now I have a remote job and building niche sites. If you want to purchase a CodingPhase subscription, I'd appreciate it if you used my link. I'll get a small commission at NO extra cost to you. This is my honest review of CodingPhase.
---
CodingPhase Review
Introduction
I will start this review by saying that I really enjoy CodingPhase's platform. He has an easy to follow timeline that you can refer to if you are a beginner.
He starts from the complete basics to knowing about the database, the backend and frontend frameworks like React.
Joe also has many courses outside of the timeline and if you are a Yearly Plus member you get access to his career bundles (email HTML developer, 6 figures developer, Shopify developer bundle).
I suggest taking one of the free courses. If you like Joe's teaching style then you will enjoy your membership because Joe teaches all of the courses himself. You don't have to switch from one instructor to another. Every course is taught by Joe.
I really enjoy that his courses are all real-life examples and projects you can use in your portfolio. My favorite part is he doesn't focus on the latest most trendy subject instead he focuses on technologies that will get you paid and skills you can use to make money on your own. I don't expect a deno course from Joe anytime soon 😂
Teaching Style
Joe's teaching style is very laid back. His courses are all very practical and he doesn't spend much, if at all, time teaching theory. Instead, the courses go straight into coding and teaching you what you need to know. He doesn't waste time teaching every possible thing which you will probably never use.
He doesn't prepare slides with theory. A lot of the time, Joe is coding the solutions on the spot. This is great because you can see Joe's thought process in real-time. Sometimes there might be a bug in the code that Joe debugs and fixes in front of you. A plus side of this is you see actual web development. Instead of wondering how instructors always code perfect code the first time, Joe gives you real-life examples of bugs he runs into or stuff that isn't working out and how he approaches fixing it.
In other words, he knows what the project will be about but he doesn't write all the code beforehand. Joe works on the projects as he is teaching.
This might not be everyone's favorite style to learn. Some people might prefer perfect code from the start and/or slides that teach a lot of theory. In this case, I would say Joe's courses are probably not for you.
However, for myself, Joe's teaching style is exactly what I want. It is very practical, and I get to see real issues and how to solve them. You get insight into real problems and the solutions. A lot of the other courses I have taken actually would make me feel a bit discouraged because I would think "wow this instructor never makes a mistake" but with Joe, it helped me get rid of that mindset.
Another great thing about Joe's style is because he is a self-taught web developer, he understands exactly what a beginner might struggle with so he doesn't throw programming vocabulary or concepts at you expecting you know what it means. Instead, he breaks the concepts down.
Joe teaches you like he would talk to a friend, he talks you through what he is thinking and doing instead of having a monotone lecture from an instructor without a personality. This makes the lectures enjoyable to watch. If you watched any of Joe's live streams on youtube, you'll understand what I'm talking about.
Course Content
The content is one of the best parts about the CodingPhase platform. You won't learn how to build boring javascript calculators, to-do apps, or things employers don't care about. The courses are all based on practical real-life projects that you can put in your portfolio and use to apply to jobs. Joe's entire premise is trying to get you working as fast as possible.
He covers everything from HTML, CSS, Javascript, React, Laravel, MySQL, and more.
Starting with HTML and CSS you will be building portfolio sites, taking designs and creating the code for it, and more.
For React, you will be making a real estate site, a craigslist clone, a site for calculating crypto profits (and how you would monetize that site), and more.
For Laravel, you will be making a restaurant website with dashboard functionality, building sites that consume APIs.
This is just scratching the surface, just browse through all the courses and you will not be disappointed at the amount of content there is.
Memberships
With the regular monthly membership, you will learn everything you need to get your first job. He includes all the regular programming courses for $20 a month. If you are just starting, I would go with this one. If you are enjoying the courses and want to learn how to make income outside of a job I would recommend the yearly plus Codingphase membership.
In the yearly plus membership ($397 a year) you will get extra courses which include career bundles (such as becoming an HTML email developer, becoming a Shopify developer), courses on making money online through niche sites, affiliate marketing, learning how to use Google analytics and other important tools, etc.
In other words, the Yearly plus membership doesn't just cover programming. It teaches you how you can start making money with these skills outside of your regular job.
If you just want to land your first job then I recommend the monthly membership. If you are looking to learn how to make money outside of your job then I recommend the yearly plus membership.
Summary
I definitely recommend joining Codingphase. For $20 you get access to all the programming courses you will need all taught by the same instructor (Joe). For a bit extra you will also get all the courses you need to start creating income outside of your regular job.
Joe's main focus is getting you your first job and he does this by focusing on valuable skills instead of what is currently "trending" in the programming community.
Joe's other big focus (included in the yearly plus) is having you learn everything you need to know to become independent and making money through freelancing, your own products, niche sites, etc.
I'm really happy that I have the lifetime membership (back when it was offered) and have access to all current courses and future courses.
I have taken the large majority of his courses and can honestly say my web development skills would not be as good as it is now without taking his courses.
Thanks in large part to Joe's courses, I am currently freelancing, creating niche sites, and working on my own projects. At my previous job, I was able to switch teams to a React developer position by taking the React courses on Codingphase.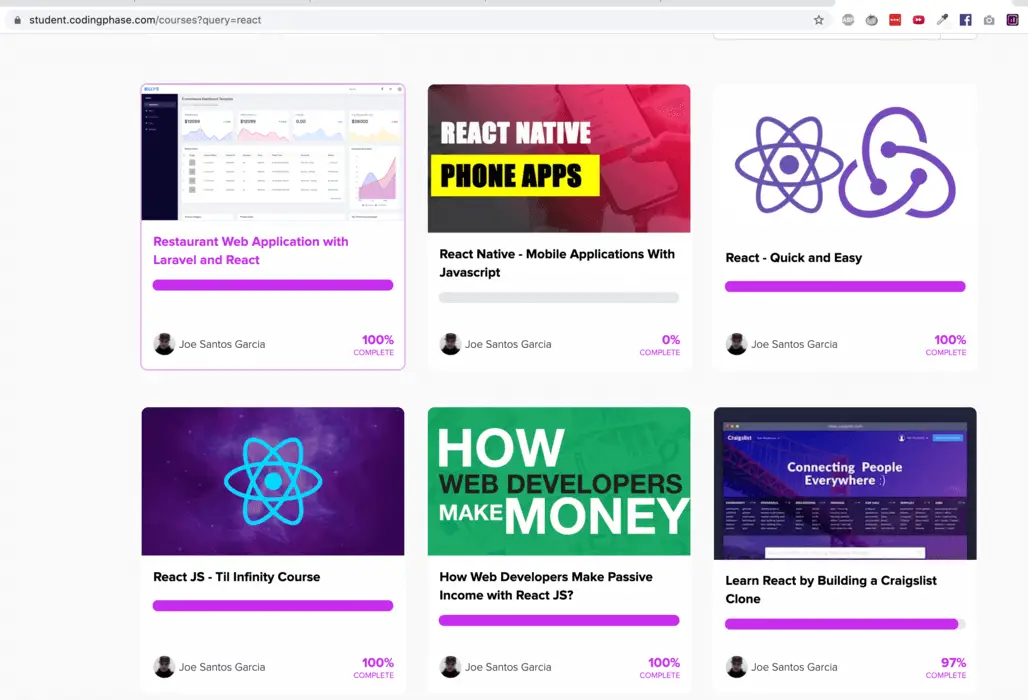 If you decide to get a subscription to Codingphase I'd appreciate using my link.
I hope you enjoyed reading my Codingphase review and if you have any questions before purchasing feel free to reach out to me on twitter.