I made a Fiverr account and every day since I have been getting the same message.
The messages are usually something like:
I have an interesting business plan, so I am looking for long term partner based in the US. This is my offer. [link to a google doc here] Check it please. If you are not interested, I will withdraw it.
The google doc looks like the screenshot.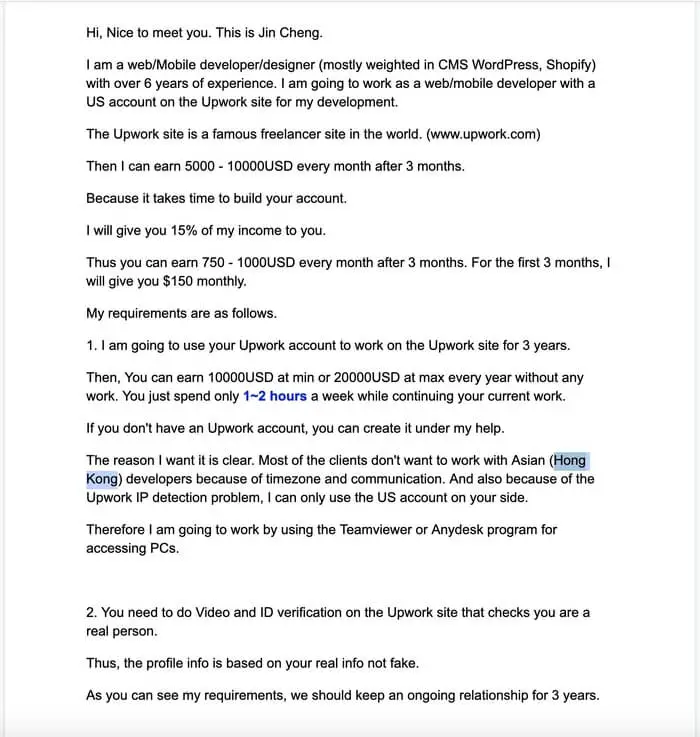 The important part to note are:
I will give you 15% of my income to you. Thus you can earn 750 - 1000USD every month after 3 months. For the first 3 months, I will give you $150 monthly.
You need to do Video and ID verification on the Upwork site that checks you are a real person.
Basically, the scammers (usually they say they are from Hong Kong or China) send you a google doc with information. They want you to create an account on Upwork using your own information.
They then want to "Freelance" using your account and pay you a percentage of their "earnings.
Their excuse is that they are not from the US and clients normally only want to work with people from the USA. They then give you contact information for you to contact them outside of Fiverr.
If you were to fall for this, they will know your identity information and can scam people on your behalf.
And if you give them access to your computer using "teamviewer", they obviously now have access to your computer.
These messages mostly get correctly categorized as spam by Fiverr, but sometimes they end up in my regular messages folder.
Just wanted to post this in case anyone searches for this scam, they know to avoid. Just block, mark as spam, and delete.
Here are a couple of posts I found online if you want to read more about it:
https://www.reddit.com/r/Upwork/comments/bfk1lj/upwork_identity_theft_please_read/
https://www.reddit.com/r/Scams/comments/cj6eck/the_fiverr_to_upwork_scam/
https://www.reddit.com/r/Fiverr/comments/dqlys5/help_are_these_japanese_dudes_asking_for_upwork/
https://forum.fiverr.com/t/scam-warning-people-asking-to-buy-upwork-accounts/371344