Disclosure: This post contains affiliate links, meaning, at no additional cost to you, I will earn a commission if you use my link.
Tech Skills learned
Other Skills learned
I can speak Thai fluently
I started learning Portuguese (B1 level)
Slowly learning Mandarin and Turkish as well
Handstands
Learning languages is a big passion of mine.
Things Built
The Thai blog is steadily growing.
This tech blog is fun for me to write. I have referenced my blog many times when I forget to do something. I have also gotten many DMs on Twitter from people who were helped by an article or wanted to ask a question.
The Chrome extensions were a start of making things and monetizing it. I didn't make much (if any) money. But it was good to put something out there.
I plan on building Affiliate sites and Shopify Apps in 2021.
How I made money
Freelancing
I left my job in January to freelance.
Most of my clients come from recommendations. I built sites using WordPress (using Divi), or static sites using Jekyll.
I also make sites with Carrd. I have gotten those clients through Fiverr.
At the moment, I am in the process of getting a part-time remote job. After freelancing for close to a year, I feel a remote job is better for me.
Dividend Income
This year I made $1,485 through Dividends. Meaning I got this income without selling any stocks. Dividends are paid (usually every 3 months) by companies you own for holding onto the company.
I invest through RobinHood. If you want to start, use my link to get a free stock: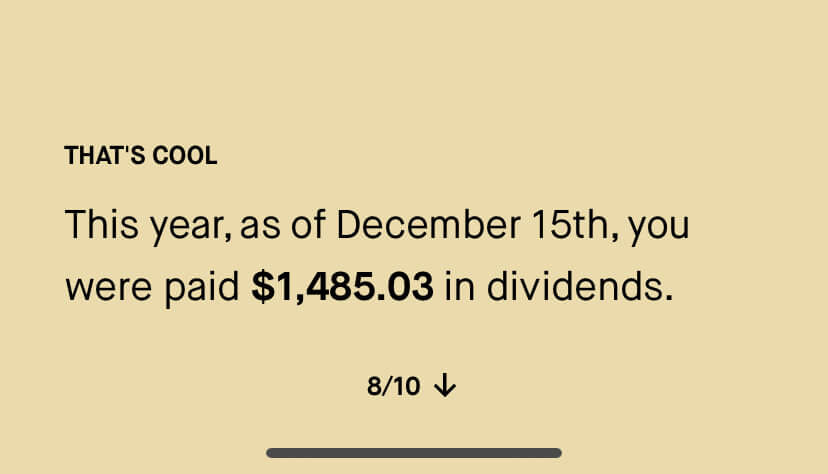 If you are new to Dividend investing, I highly recommend watching PPCIan on Youtube. Almost everything I know comes from watching his channel.
Affiliate income
A small amount of income that I am looking to grow next year is my affiliate income.
I made money by promoting things I enjoy and use such as
Print on demand
A couple of months ago, I bought this Print on Demand guide (making money selling items on Etsy and other marketplaces).
Since buying it, I sell a couple of items (shirts, cups) every week. Buying the guide was a great investment.
Read my full review here.
Plans for 2021
Make more videos on my youtube channel (starting with a lot more Carrd tutorials).
Do remote work and less freelancing.
Make affiliate sites.
Create Shopify apps.
Learn languages: master Portuguese, continue learning Turkish and Chinese
Continue documenting everything on this blog
Other interesting things from 2020
I started the year in NY (where I am from). Then I went to Colombia in February, was stuck there until October due to lockdowns. Returned to NY and shortly after went to Turkey. Spent a month in Turkey. Now I am in Brazil for at least for 3 months.
This year I started using Twitter. I tried to tweet daily at first but it became too difficult. Now I don't have a set schedule.
I did start following many makers, which I wrote about in this blog post.
I limit going on Twitter to twice a day for a few minutes, otherwise I can spend too much time endlessly scrolling.